The Family Dinner Project
Founded in 2010, The Family Dinner Project (TFDP) is a non-profit initiative that champions family dinner as an opportunity for family members to connect with each other through food, fun, and conversation about things that matter. More than two decades of scientific research document the many physical, mental health, and academic benefits of family dinners. While most parents know that family dinner is a great idea, only about 40% of American families are actually having regular family dinners. The Family Dinner Project works to make shared mealtime more accessible, doable, and enjoyable so that more families can reap the many benefits of this important ritual. Our approach is designed to create meaningful engagement and bonding around the table.
What we do:
TFDP designs online and community-based tools to support families to improve the frequency and quality of their meals together. We are the only organization with resources that focus on three key areas: food, fun and conversation about things that matter. We carry out our work through several online and community-based programs—all of which are available free of charge. Included among our programs are digital materials to support daily habit change, community events, and parent/health professional workshops.  Additionally, TFDP has cultivated a large community via Facebook (more than 56,000 followers) as well as extended our reach through features in dozens of national media outlets, including the NYT, Time Magazine, ABC News, PBS, The Washington Post, The Wall Street Journal, CNN, NPR, and many others.
Our collaborators:
The Family Dinner Project works with national and community organizations to reach and support more families to come together around the table to reap the benefits to the body, brain, and mental health of children and their families. We work with partners through both online campaigns and in-person events. TFDP's programs are supported through collaborations with the Community Foundation of New Jersey, Blue Cross Blue Shield of MA, Poses Family Foundation, Tracy Family Foundation, American Girl, Boston Market, and General Mills.
Community-Based Partners:
The Family Dinner Project could not have achieved such a deep impact over the years without support from our community- based partners. A majority of TFDP's community-based work occurs in Massachusetts, where we work with The Commission on the Status of Grandparents Raising Grandchildren, Boston Children's Museum, For Kids Only Afterschool Program, Boston Public Library, Blue Star Families, Ashland Decisions at Every Turn Coalition, Boston Public Market, First United Church of Melrose, Mothers of Preschoolers, Pathways for Children, and Harvard University.
Online Partners:
TFDP's online partners have made it possible for us to reach over 1.7M people online since we were founded in 2010. Our digital partnerships include content collaborations and digital campaigns with Common Sense Media, Making Caring Common, MGH Clay Center for Healthy Minds, Home Base Program at MGH, Feed the Children, American Speech and Hearing Association, The Herren Foundation, #GivingTuesday, The Harry Potter Alliance, Blue Star Families, On the Table, #Weaving Community, and the Recipe for Success Foundation.
Current Projects:
We are currently focusing on working with health professionals to introduce them to the benefits of family dinner through continuing education courses and then to train them to implement TFDP community programs. In addition, we are working with several organizations, including Grandparents Raising Grandchildren, No Kid Hungry, Feed the Children, and the Military Special Operations Collaborative, who serve vulnerable families. Together we are designing tools, resources, and support, and are cultivating a community of additional families.
The Family Dinner Project published a book in October 2019—Eat, Laugh, Talk: The Family Dinner Playbook (Familius) that offers 52 weeks of easy recipes, games, and conversation starters to help families overcome the most common obstacles to family dinner, like too much tension at the table, not enough time, too busy schedules, and picky eaters. Each week features a family who we have worked with over the last 10 years. Proceeds from all sales of our book go directly towards the support of our work with partners across the country.
The Cooking Show for Health Professionals: This CME-approved 5-hour curriculum combines nutritional psychiatry with the research on the benefits of family dinners. In collaboration with Dr. Uma Naidoo, a professional chef and psychiatrist, Dr. Anne Fishel teamed up to provide a cooking demonstration, a community dinner held at the Boston Public Market where games and conversation starters are enacted by mental health professionals, and formal presentations on the science of shared mealtime and healthy eating that promote mental health for patients.
During the pandemic, much of our work has focused on developing new online resources. We have shared widely Pandemic 2020: Our stuck at home guide to food, fun, and conversation, also available in Chinese and Spanish; as well as our Virtual Dinner Party Guide and many other resources to help families when they are eating breakfast, lunch and dinner. We also have resources for families who have children with developmental disabilities.
In addition, we have resources available from our team and from others to help families talk about anti-racism and other timely topics.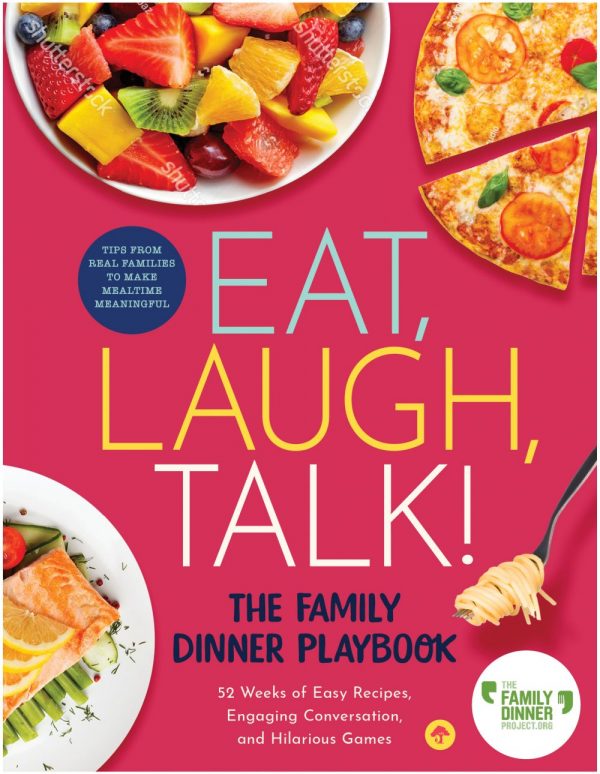 Interested in learning more?
More information about our programs and resources can be found on our website: Family Dinner Project
Or, contact the executive director and co-founder of The Family Dinner Project, Dr. Anne Fishel, Director of the Family and Couples Therapy Program at Massachusetts General Hospital.